The bed is the first thing I set up when I'm getting ready for a trip; everything else goes in around it.
I try to keep all my gear very simple but functional too. Here's a photo of what I packed for a 51 day road trip last spring, with the exception of my clothing.
Starting in the front of the 4Runner, I hang my personal/shower kit over the headrest in the passenger seat.  This allows me to grab any meds, a hand towel, a wet wipe, etc. when needed without having to dig for it in the back.  And, when I stop & buy a shower, I can just take the whole bag in with me & I have everything I need.  I also put all my credit card receipts in one of the side pockets, so I can keep my purse/backpack cleaned out.  You can see in the photo everything that goes in this bag.
In the floor in front of the passenger seat, goes an old backpack that holds my camera, a pillow, blanket, fold up backpack & water bottle sling.  This keeps my camera always close in case I get a spontaneous opportunity for a shot, & the blanket is great for covering up anything in the front that I don't want viewed from the outside.  In this area I also will have an atlas or maps I need. In addition, I carry a bag of kids books that I read to my grand daughters when they FaceTime me when I'm on the road (I don't leave home without these!)  I try to leave the front seat empty except for my purse or bag.
Now it's time to pack up the back.  On the floor behind the passenger seat, goes all my tools & emergency gear.  Tow strap, tire inflator, jump starter, random tools, etc.
I seem to carry a lot of electronics. I even have a list of 13 things to charge before I leave…Yikes!  But, I do use them all.  Included in the photo below is an inverter I plug in so I can recharge my laptop as I drive; there's also a portable laptop charger that works great when I'm in the backcountry working on my website.  There are a couple of other chargers so I can keep my phone always powered, & random other chargers for everything else I bring.  I also carry a hard drive with my favorite movies on them, in case I get stuck in super bad weather & want some entertainment (although in all the years I've carried it, I've only used it once; I'm a reader, first & foremost!)  It looks like alot, but it all stores in a nice little zippered bag I keep right behind the console.  Keeping things charged when you car camp & boondock is always a challenge.  I don't have any solar & not planning on getting any, so I always have something plugged in when I'm driving.  And, if I go to a coffee shop or library, I make sure I charge up there too.
Behind the drivers seat is where I store all my water, soda & beer.  I use a flat box from the liquor store to hold as many cans as possible & slide it under my drivers seat.
Where my back seat is folded down, I have two plastic containers, stacked, each with a drawer that I use for my kitchen.  I access this through the rear passenger door.  The top bin holds all my non-perishable food & the bottom holds my plate, bowl, pot, utensils, cups, etc.  It also holds my coffee bag that includes my backpacking stove & everything to make a great cup of coffee. And, the 'kitchen' box doubles as my nightstand from the bed….always think double duty for gear.
Filling up the rest of the back is my duffle (between the kitchen & cooler) with all my clothes inside.  I have a shoe tray with a bungee on the top to store my oh-so-many pairs of shoes.  And sitting in the far back, is the cooler.  On top of these I'll throw my backpack, hiking poles & camp chair.  My tents will lay in the floor between my mattress & clothes bag.
When you put it all together, it's my home away from home!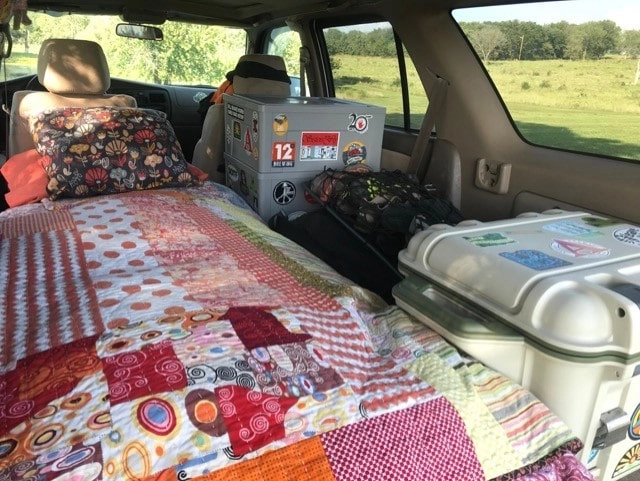 (photo10) Each trip will vary as to what you need to take & how you pack it.  Sometimes I take a Thule with me (a road box on top of the 4Runner) which can hold a lot, but most of the time I just take the 4Runner.  You'll want to take advantage of every empty nook while still making gear easy to get to.  Space is so important to me…I don't want my big windows covered while driving or gazing at the sky at night from inside.  You'll find ways to get creative with storage & also figure out what you don't need to pack in the first place. So, that's my Camper.  It's comfy, colorful, functional, simple & has everything I need to explore our beautiful country!