Standard axle mounting location
Flopped axle mounting location
AXLE FLOPPING
NEED TO SLIGHTLY RAISE YOUR TRAILER?
Flopping the trailer axles may be your solution.
Flopping travel trailer axles means mounting that the axle or axles under the springs as opposed to over the springs. This raises the trailer maybe 5 to 6inches. Basically the thickness of the axle and sping pack.
The axles are not inverted or flipped over, but are re-positioned from over to under the springs. We remove all suspension parts, inspect the pieces for wear.  We always replace the u-bolts, they are an inexpensive part that if failed will leave you stranded. The axles are leveled and new axle pads welded on the top side of the axle.
SUSPENSION SERVICES
BEARING REPACKING
How many trailers have you seen on the side of the road this year with one wheel propped up? Don't let it happen to you.
Manufacturers recommend this maintenance every year if your trailer gets normal use, or at least every 20,000 miles.  This is a good service to do regularly, as it is cheap insurance for spending your vacation on the side of the road.  While doing bearing repack we also inspect your brakes and adjust them if needed.
AXLES
Have you clipped a curb or gettin unusualy wear on your tires?  You trailer could have a bent axle or overloded.  If in doubt its always good to weigh your trailer and not base your decision off of the GVW tag on the side of the trailer.  We have found numerous trailers over the years that were overloaded for the suspension they had.
We sell and replace both torsion and spring axles for travel and utility trailers.  We also retofit trailers with new axles for the troublesome Nev-R-Lube axles.
BRAKES
Do you have a noise coming from one of your brake drums, or is your trailer just not stopping good enough?  You may need a brake job.
Often we see brake that are not reuglary adjusted, which causes over heating and crackign of the linings, as well as getting so far out of adjustment that the eturn spring falls out and rolls around inside of the drum.
We stock and install both 10″ and 12″ brakes regulary.  We use only American made brakes rather than the cheap import brakes that cause other braking problems.
SUSPENSION UPGRADES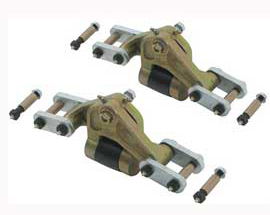 RUBBER CUSHIONED ROCKERS
Cracks, potholes, and other road hazards and imperfections can challenge your leaf spring suspension and take a toll on your trailer's frame and contents.
The Dexter E-Z Flex System simply replaces the standard steel equalizer and works with the trailer's existing leaf springs to improve ride performance. During travel, the E-Z Flex System pivots and compresses to isolate damaging road shocks before they are sent to the trailer's frame and contents.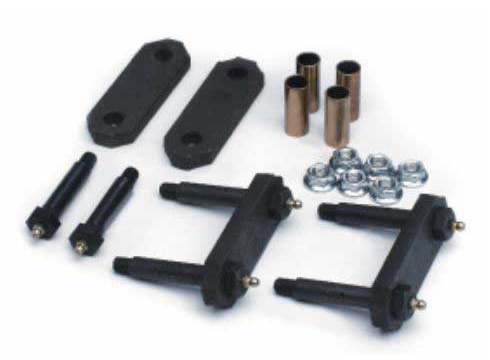 GREASABLE BOLTS
Upgrade your trailer's suspension with heavy-duty hardware. A suspension upgrade is ideal for all applications.  Grease bolts stop the anoyng squeeks and extend the life of bushings, rockers and links.
Optional heavy duty links are also avalaibe as heavy duty rockers. Thicker links combined with grease bolts will last longer than standard shackle straps.  Update your trailer today before your links break and leave you on the side of the road.
BRONZE BUSHINGS
Replace worn or damaged nylon leaf spring bushings with brass bushings.  Bronze/Copper alloys wear well against steel thus making them last longer than their nylon counterparts.  We ell and install both nylon and bronze bushings.
DONT GET STRANDED. ENJOY THE OUTDOORS